Patented Magnetic Action
Pen "rotates" imaging panels!
Eraser "returns" the panels
to the neutral position!!
ENDLESS APPLICATIONS AND USES!!
Features:
- Clean Operation: No dust, chalk or ink residue on board or surrounding areas. Your hands and clothes also stay completely clean! Odor Free, unlike a typical whiteboard!!
- No Accidental Erasing: Even if your hand or body rubs against the board, the text that you have written will not erase. Text can be displayed for long periods of time with no threat of deletion.
- Economical: The magnetic pen is designed to be used indefinitely so there are no consumables to buy.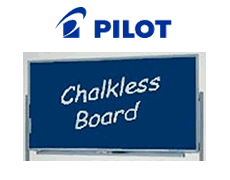 Teaching Benefits:
- Allergy Free: The imaging elements are enclosed, so there is NO DUST to irritate students or teachers!
- Clean environment: No chalk dust, period!!
- Accountability: The magnetic pen is both the writing and spot erasing instrument. Only users of the unique magnetic pen or eraser can alter the board. No tampering is possible!!
Uses:
- Clean Areas: Locations where cleanliness is an absolute necessity like hospitals, pharmaceutical companies, nurseries, clean rooms, others.
- Education: Use in place of messy blackboards in all levels of schools.
- Display Board: Use for restaurant menu boards, shop displays or other forms of public information systems.
- Environment: Since there are no consumables to throw away the board can be used in government offices and other environmentally conscious locations.