Blow Molding
Blow molding is a method of forming hollow articles out of thermoplastic materials.
Blow molding is a process of forming a molten tube of thermoplastic material, then with the use of compressed air, blowing up the tube to conform to the interior of a chilled blow mold. The most common methods are extrusion, injection, and injection-stretch blow molding.
The continuous-extrusion method uses a continuously running extruder with a tuned die head that forms the molten plastic tube. The tube is then pinched between two mold halves. A blow pin or needle is inserted into the tube and compressed air is used to blow up the part to conform to the chilled mold interior. Accumulator-extrusion is similar, however, the molten plastic material is accumulated in a chamber prior to being forced through a die to form the tube.
Injection blow molding is a process of injection molding a preform (similar to a test tube), then taking the tempered preform to a blow mold to be filled with compressed air to conform to the interior of the blow mold. Injection-stretch blow molding can be a single-stage process similar to standard injection blow molding, by adding the element of stretch prior to blow forming. Also, a two-step process is possible, where a preform is made in an injection molding machine, then taken to a reheat-stretch blow molding machine for preform reheating and final blow forming in a blow mold.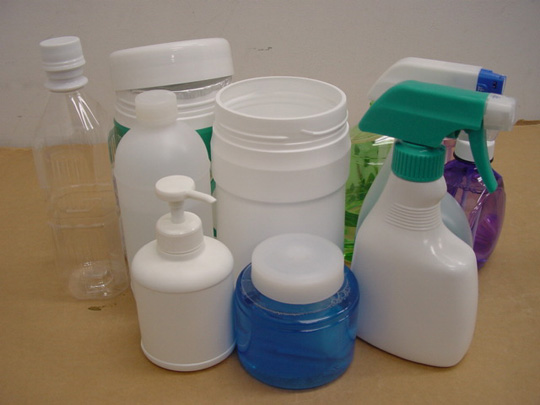 Pictured above are samples of our many types of plastic products, designed, manufactured and delivered to our end user clients, for final packaging.
If you have needs for such items, please contact San-Ai USA for a complimentary product review kit, with detailed specs and samples.