Injection Molding
Injection molding is the principal method of forming thermoplastic materials. Modifications of the injection process are sometimes used for thermosetting plastics.
In injection molding, plastic material is put into a hopper which feeds into a heated injection unit. A reciprocating screw pushes the plastic through this long heating chamber, where the material is softened to a fluid state. At the end of this chamber there is a nozzle which abuts firmly against an opening into a cool, closed mold. The fluid plastic is forced at high pressure through this nozzle into the cold mold. A system of clamps hold the mold halves shut. As soon as the plastic cools to a solid state, the mold opens and the finished plastic is ejected from the press.
The problem with injection molding of thermosetting materials is that, under heat, these plastics will first soften, then harden to an infusible state. Thus it is essential that no softened thermosetting material in the heating chamber be allowed to remain there long enough to set. Jet molding, offset molding and molding using a screw-type machine overcome this problem by liquefying the thermosetting plastic material just as it goes through the injection nozzle into the mold, but not before.
Reaction Injection Molding
Reaction injection molding (RIM) is a relatively new processing technique that has rapidly taken its place alongside more traditional methods. Unlike liquid casting, the two liquid components, polyols and isocyanates, are mixed in a chamber at relatively low temperatures (75Āč - 140Āč F) before being injected into a closed mold. An exothermic reaction occurs, and consequently RIM requires far less energy usage than any other injection molding system.
The three major types of polyurethane RIM systems are rigid structural foam, low-modulus elastomers, and high-modulus elastomers.
Reinforced RIM (R-RIM) consists of the addition of such materials as chopped or milled glass fiber to the polyurethane to enhance stiffness and to increase modulus, thus expanding the range of applications.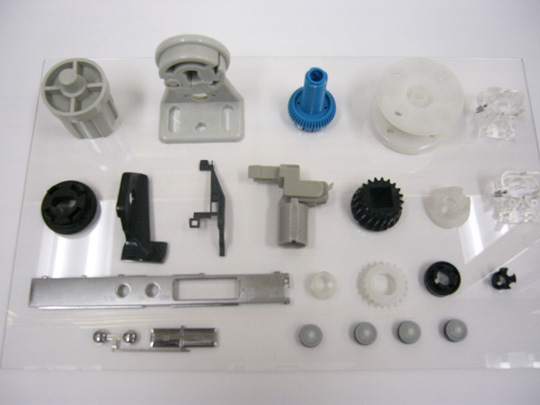 Our Injection Molding Division has an extensive background in small to mid-size parts manufacturing processes. San-Ai currently is producing injection molded parts for some of the larges corporations in the world.
Yet our concept is simple enough, to produce even small volume runs for your specific needs, or large volume runs for your second source competitive review of current product inventories.